Mengapa harus training AWS Cloud Aministration di IDN ?
Free konsultasi after training (kalo perlu tindak lanjut, ke project)
Update informasi bursa kerja untuk peserta training
Bebas nge-lab di IDN di luar jam training khusus peserta training
Disediakan Penginapan gratis untuk peserta yang berasal dari luar kota
Trainer berpengalaman mengajar di dalam dan luar negeri
Selama training berlangsung, peserta akan dipinjamkan akun AWS secara gratis
---
Pengenalan Training
Amazon Web Service (AWS) adalah salah satu layanan cloud-computing terkemuka di dunia dengan kekayaan fitur yang bisa dimanfaatkan bagi pengembangan teknologi perusahaan anda. Sekarang ini, banyak sekali perusahaan besar maupun start-up yang menggunakan layanan cloud dari AWS untuk menunjang kebutuhan infrastruktur mereka. Bagi anda yang ingin belajar mengenai administrasi pada AWS adalah langkah bagus untuk meningkatkan skill anda dalam berkarir. Dan IDN adalah alasan tepat untuk itu semua.
Apabila anda memilih IDN sebagai training partner anda dalam menguasai administrasi dan menejemen AWS merupakan pilihan yang tepat, selama 4 hari anda akan dibimbing oleh instruktur professional pada bidangnya dengan adanya penjelasan dan pemahaman materi serta contoh implementasi di lapangan akan menjadikan anda memiliki skill system administrator AWS ketika telah selesai mengikuti training ini.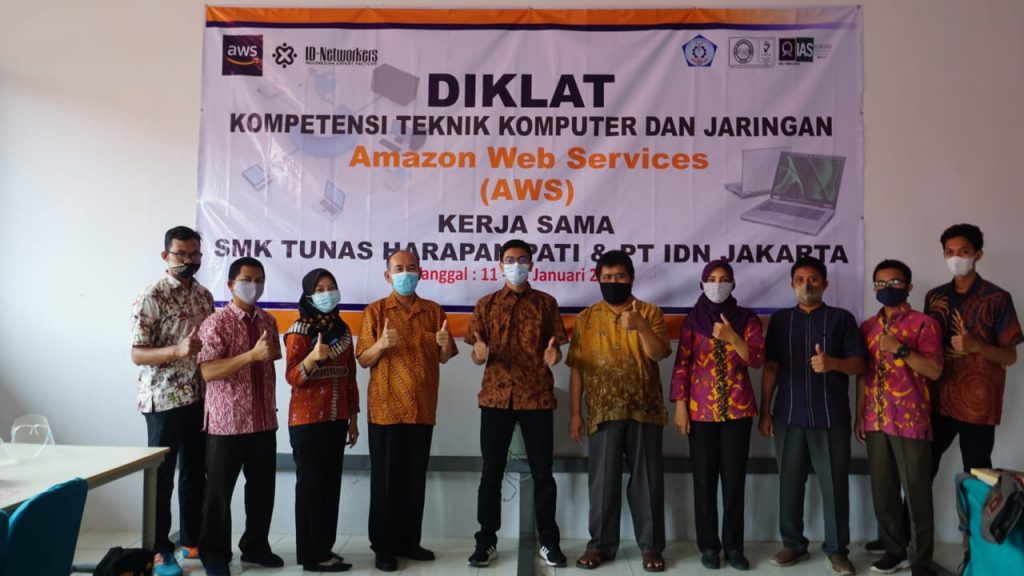 ---
Benefits
Peserta diharapkan setelah training mampu untuk melakukan administrasi dan manajemen pada AWS
Peserta dapat memahami langkah-langkah troubleshooting pada layanan cloud computing AWS
Peserta juga akan bergabung di grup WhatsApp TrainingAWS. Sehingga peserta dapat bertanya jika ada kesulitan dalam memahami materi ataupun ada masalah dengan troubleshooting yang berkaitan dengan AWS.
Selama training berlangsung, peserta akan dipinjami laptop dengan spesifikasi mumpuni selama training berlangsung.
Peserta akan mendapat modul training dalam bahasa indonesia dan juga beberapa software pendukung.
Peserta akan dipinjami akun AWS selama proses training berlangsung.
---
Trainer
---
Curriculum
Cloud Concept Overview:
Introduction to cloud computing
Advantages of cloud computing
Introduction to Amazon Web Services (AWS)
AWS Cloud Adoption Framework (AWS CAF)
Cloud Economic and Billing:
Fundamental of pricing
Total Cost of Ownership
AWS Organization
AWS Billing and Cost Management
Technical Support
AWS Global Infrastructure Overview:
AWS Global Infrastructure
AWS service and service category overview
AWS Cloud Security:
AWS shared responsibility model
AWS Identity and Access Management (IAM)
Securing a new AWS account
Securing account
Securing data on AWS
Working to ensure compliance
Networking and Content Delivery:
Network Basic
Amazon VPC
VPC Networking
VPC Security
Amazon Route53
Amazon CloudFront
Compute:
Compute service overview
Amazon EC2
Amazon EC2 cost optimization
Container Service
Introduction to AWS Lambda
Introduction to AWS Elastic Beanstalk
Storage:
Amazon Elastic Block Store (Amazon EBS)
Amazon Simple Storage Service (Amazon S3)
Amazon Elastic File System (Amazon EFS)
Amazon Simple Storage Service Glacier
Database:
Amazon Relational Database Service (Amazon RDS)
Amazon DynamoDB
Amazon Redshift
Amazon Aurora
Cloud Architecture:
AWS Well-Architected Framework
Reliability and high availability
AWS Trusted Advisor
Automastic Scaling and Monitoring:
Elastic Load Balancing
Amazon CloudWatch
Amazon EC2 Auto Scaling
---
Durasi Training
4 Hari (Jam Belajar Mulai Pukul 09.00 s.d 17.00 WIB Perharinya)
---
Biaya Investasi : Rp 2.500.000,-
---
Note: Jika membutuhkan surat penawaran dan faktur pajak, silahkan hubungi kami.