Mengapa harus training linux system administrator di IDN ?
Free konsultasi after training (kalo perlu tindak lanjut, ke project)
Update informasi bursa kerja untuk peserta training
Bebas nge-lab di IDN di luar jam training khusus peserta training
Disediakan Penginapan gratis untuk peserta yang berasal dari luar kota
Trainer berpengalaman mengajar di dalam dan luar negeri
Pengenalan Training
Ubuntu adalah salah satu distro linux yang sangat terkenal di dunia yang banyak digunakan oleh perusahaan-perusahaan nasional dan internasional. Pada training linux system administrator, peserta akan belajar mengenai instalasi, konfigurasi, manajemen serta troubleshooting pada system Ubuntu Linux server.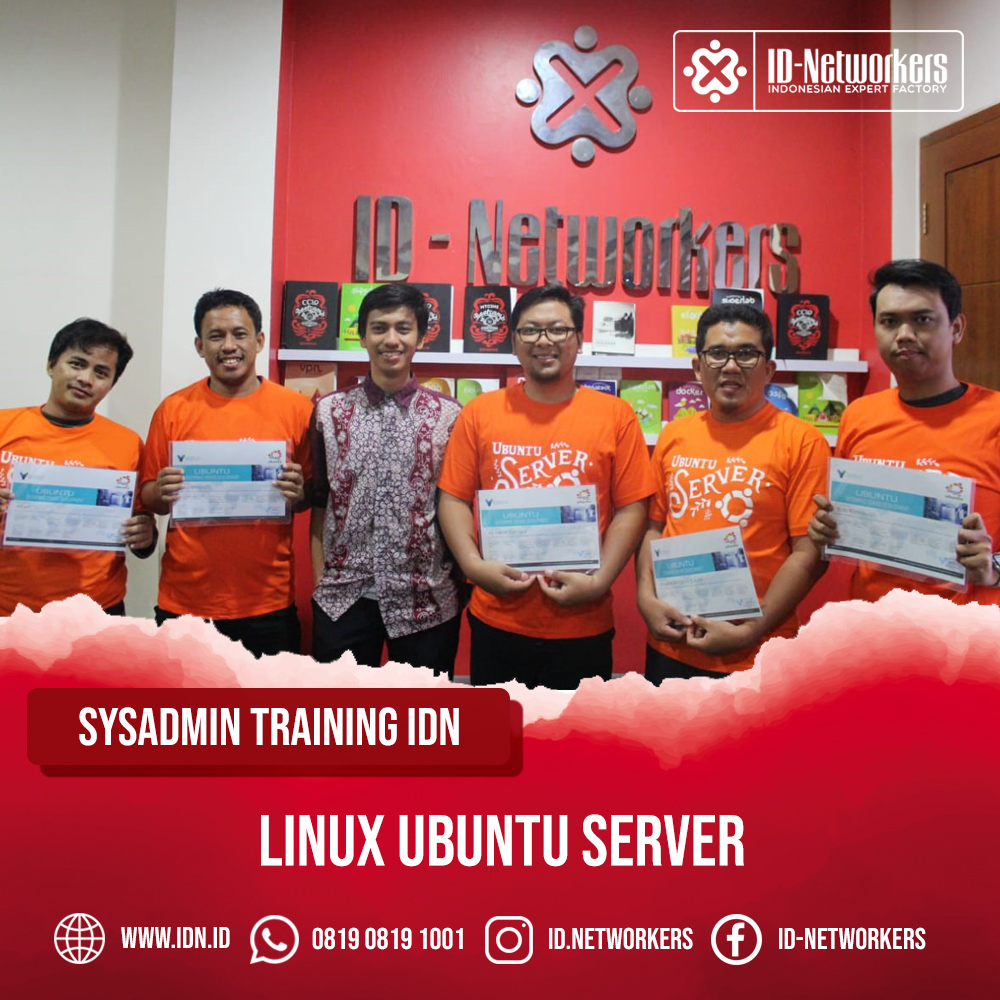 Training yang akan dilakukan selama 4 hari ini akan dijalani setiap peserta Bersama dengan trainer yang telah professional di bidangnya. Selain itu peserta juga akan mendapatkan sharing pengalaman mengenai penerapan atau implementasi kasus dan kebutuhan di lapangan.
NOTE: Jika masih pemula di bidang linux, disarankan untuk mempelajari materi linux fundamentals terlebih dahulu melalui link berikut, Gratis!
>>> https://lms.idn.id/courses/linux-dasar/
Benefits
Peserta diharapkan setelah training mampu untuk melakukan instalasi dan konfigurasi service pada server dengan system operasi Ubuntu Linux Server.
Peserta dapat memahami langkah-langkah troubleshooting pada server dengan system operasi Ubuntu Linux Server.
Peserta juga akan bergabung di grup WhatsApp Training Ubuntu. Sehingga peserta dapat bertanya jika ada kesulitan dalam memahami materi ataupun ada masalah dengan troubleshooting yang berkaitan dengan Ubuntu Linux Server.
Selama training berlangsung, peserta akan dipinjami laptop dengan spesifikasi mumpuni selama traingin berlangsung.
Peserta akan mendapat modul training dalam bahasa indonesia dan juga beberapa software pendukung.
---
Trainer
CURRICULUM
Apache Web Server
1. Installasi dan Konfigurasi
2. Access configuration
3. Secure APACHE (https)

Database
4. Installasi dan Konfigurasi
5. MySQL
6. PHP MyAdmin

Squid
7. proxy server
8. Installasi dan konfigurasi squid.conf
9. Konfigurasi browsers klien
10. Squid security
11. NGINX Proxy and Reverse Proxy

Samba
12. Linux-Windows Sharing
13. Installasi dan Konfigurasi
14. konfigurasi SAMBA users
15. smbclient, smbstatus
16. Mengatur Windows filesystems
17. Mengakses Windows shares

Domain Name Server
18. Cara kerja DNS
19. Tipe DNS Servers
20. Domain Name Space
21. Installasi dan konfigurasi DNS server
22. konfigurasi named.conf dan databases
23. DNS resource record formats
24. Pengujian DNS Server
25. Setting DNS Client

Backup and recovery
26. file system backup
27. file backups
28. tipe dump levels
29. backup harian, mingguan, bulanan
30. strategi backup

Automation
31. Cron dan Anacron
32. At dan Batch
33. Installasi dan konfigurasi
34. konfigurasi Jobs

File transfer protocol
35. FTP server dan klien
36. anonymous users
37. download dan upload permissions
38. FTP user access
39. FTP security
40. Packet filtering
41. iptables
42. chains
43. rule targets
44. connection tracking
45. Network address translation (NAT)

Zimbra Mail Server
46. Arsitektur Zimbra
47. Installasi dan konfigurasi Zimbra Collaboration
48. Zimbra Collaboration Suite
49. Zimbra Admin Console
50. Zimbra Collaboration System
51. Backup & Restore
---
Durasi Training
4 Hari (Jam Belajar Mulai Pukul 09.00 s.d 17.00 WIB Perharinya)
---
Biaya Investasi : Rp 2.500.000,-
---
Note: Jika membutuhkan surat penawaran dan faktur pajak, silahkan hubungi kami.