Mengapa Harus Training Vmware di IDN ?
Free konsultasi after training (kalo perlu tindak lanjut, ke project)
Update informasi bursa kerja untuk peserta training
Bebas nge-lab di IDN di luar jam training khusus peserta training
Disediakan Penginapan gratis untuk peserta yang berasal dari luar kota
Trainer berpengalaman mengajar di dalam dan luar negeri
Lab menggunakan laptop dengan spesifikasi tinggi
Kami sediakan laptop training, jika ada peserta yang tidak membawa laptop
---
Pengenalan Training
Salah satu pengetahuan yang wajib dimiliki oleh seorang System Administrator adalah mampu melakukan administrasi virtualisasi server. VMware vSphere sendiri adalah produk yang dibuat oleh VMware dalam melakukan virtualisasi server berbasis bare-metal.
Apabila anda memilih IDN sebagai training partner anda dalam menguasai VMware vSphere Administration merupakan pilihan yang tepat, selama 4 hari anda akan dibimbing oleh instruktur professional pada bidangnya dengan adanya penjelasan dan pemahaman materi serta contoh implementasi di lapangan akan menjadikan anda memiliki skill system administrator yang mampu melakukan implementasi dan manajemen jika telah selesai mengikuti training ini.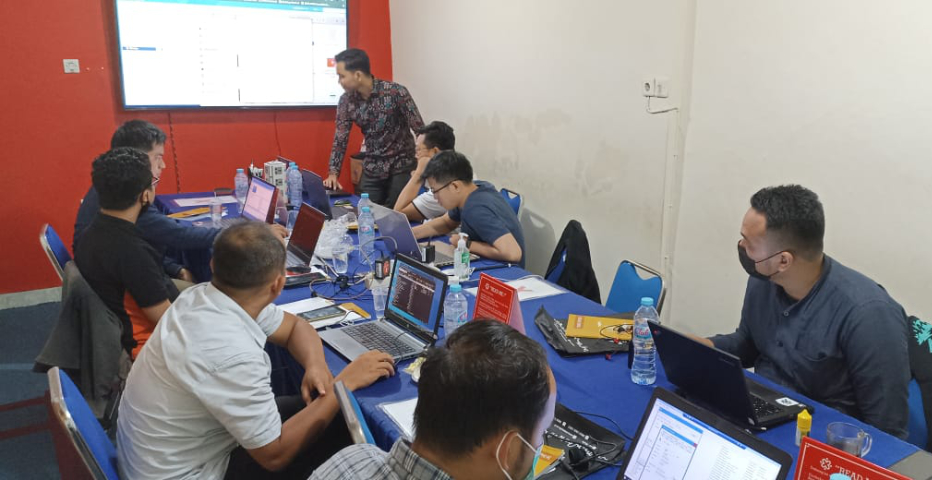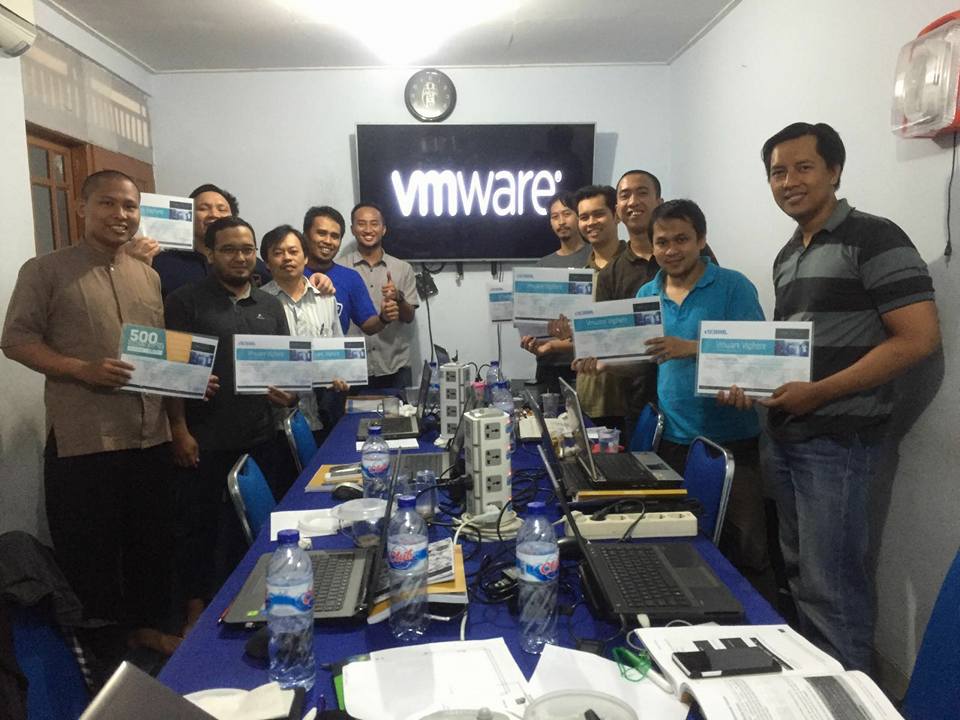 Training VMware vSphere di IDN adalah training non-authorized, sehingga apabila peserta ingin melakukan ujian VCP-DCV makan peserta tetap wajib mengikuti training authorized terlebih dahulu. Akan tetapi materi yang disampaikan pada training tetap memiliki standard dan kualitas sama dengan training authorized.
---
Benefits
Peserta diharapkan setelah training mampu untuk melakukan instalasi dan konfigurasi VMware vSphere dan VMware vCenter
Peserta dapat memahami langkah-langkah troubleshooting pada VMware vSphere
Peserta juga akan bergabung di grup WhatsApp Training VMware vSphere. Sehingga peserta dapat bertanya jika ada kesulitan dalam memahami materi ataupun ada masalah dengan troubleshooting yang berkaitan dengan VMware vSphere.
Selama training berlangsung, peserta akan dipinjami laptop dengan spesifikasi mumpuni selama training berlangsung.
Peserta akan mendapat modul training dalam bahasa indonesia dan juga beberapa software pendukung.
---
Trainer
---
Testimoni
"Materi cukup menarik dan bermanfaat, baik dalam penyampaian dan profesional", Dwi Hardiyono
Ruangan dan fasilitasnya bagus, cukup memadai, Penyampaian baik dan cukup jelas, update pengetahuan beberapa fitur baru di vmware vsphere & vcenter", Ahmad Hisbullah
"Mendapatkan ilmu baru, trainer sangat friendly dan bisa menjelaskan dengan mudah di mengerti, mendapatkan ilmu baru yang bisa di implementasikan di kantor atau di luar", Achmad fauzi ferdiansyah
---
CURRICULUM
Implementasi Vsphere Host
Lab 1. Install ESXI Sever
Lab 2. Manegement Configure Server ESXI
Vsphere Client
Lab 3. Management Storage Vsphere
Lab 4. Install OS di Vsphere Host
Lab 5. Deploy dan Eksport OVF
Lab 6. Installasi menggunakan CD/DVD ROM Client
Lab 7. install Vmtools Windows
Lab 8. install Vmtools Linux
Menejemen Vsphere Configuration
Lab 9. Menambahakan Licensed Vspher host
Lab 10. Automatic Start UP Vspher host
Lab 11. Setting SSH Vspher host
Lab 12. Virtual Switch
Lab 13. Konfigurasi Vsphere Networking
Lab 14. User Authentifikasi Manager
Implementasi Vsphere Power CLI
Lab 15. Install Power Cli
Lab 16. Conect to Vsphere Host with Power CLI
Lab 17. Menjalankan VM dengan Power CLI
Lab 18. Mematikan VM dengan Power CLI
Lab 19. Restart VM dengan Power CLI
Implementasi Vcenter
Lab 20. Deploying Vcenter
Lab 21. Login Vcenter web Client
Lab 21. Installasi Vsphere Plugin
Lab 22. Login Vcenter menggunakan Vsphere
Lab 23. User Authentification
Lab 24. Adding Vsphere Host to Vcenter
Lab 25. Memisahkan file kedalam folder di menu VMS and Template
Lab 26. Menggunakan Schedule Task Vcenter
Lab 27. Menggunakan Alarm pada Vcenter
Menjemen Vcenter
Lab 28. Backup dan Restore
Lab 29. Snapshoot Backup System
Lab 30. Konfigurasi PV (Phisical to Virtual)
Lab 31. Backup Data VM Menggunakan SSH
Lab 32. Backup Melalui Data Store
Lab 33. Vmware Data Recovery dan Data Protection
Vmware Storage
Lab 34. Install FreeNas
Lab 35. Konfigurasi FreeNAS NFS Share
Lab 36. Konfigurasi FreeNAS ISCSI Share
Lab 37. Konfigurasi ESXI dengan NFS dan ISCSI
Vmware Vsphere Migration or Vmotion
Lab 38. Konfigurasi Vmware Vsphere Vmotion
Lab 39. Penggunaan Vmware Vsphere Vmotion
Vmware Vsphere Cluster
Lab 40. Vsphere OverView
Lab 41. Vsphere Cluster
Lab 42. Menambahkan Host di Cluster
Lab 43. Aktivasi HA (haight Availability)
Lab 44. Destrubuted Resource Schulder(DRS)
---
Durasi Training
4 Hari (Jam Belajar Mulai Pukul 09.00 s.d 17.00 WIB Perharinya)
---
Biaya Investasi : Rp 3.000.000,-
---
Note: Jika membutuhkan surat penawaran dan faktur pajak, silahkan hubungi kami.