Mengapa Harus Training DevOps di IDN ?
Free konsultasi after training (kalo perlu tindak lanjut, ke project)
Update informasi bursa kerja untuk peserta training
Biaya training murah dibanding tempat-tampat yang lain
Bebas nge-lab di IDN di luar jam training khusus peserta training
Disediakan Penginapan gratis untuk peserta yang berasal dari luar kota
Trainer berpengalaman mengajar di dalam dan luar negeri
Pengenalan Training
DevOps adalah kombinasi dari Software Development (Dev) dan IT operations (Ops). Penggabungan ini bertujuan untuk mengotomatisasi dan mengintegrasikan proses pengerjaan antara tim pengembang dan operasi TI di seluruh siklus hidup produk dengan bekerja secara kolaboratif sehingga meningkatkan kecepatan dan kualitas dari software deployment.
Dengan menggunakan teori dan praktik langsung, peserta pelatihan akan dapat mengetahui, mengeksplorasi, dan memahami tentang Mengembangkan sistem otomatisasi dan server. DevOps mewakili perubahan dalam budaya TI, berfokus pada penyediaan layanan TI yang cepat melalui penerapan praktik yang lincah dan ramping dalam konteks pendekatan yang berorientasi sistem. DevOps menekankan orang dan berusaha meningkatkan kolaborasi antara operasi dan tim pengembangan.
Requirement
Sudah familiar dengan ubuntu server. Jika belum, disarankan ikut training ubuntu terlebih dahulu.
Testimoni dan Dokumentasi Training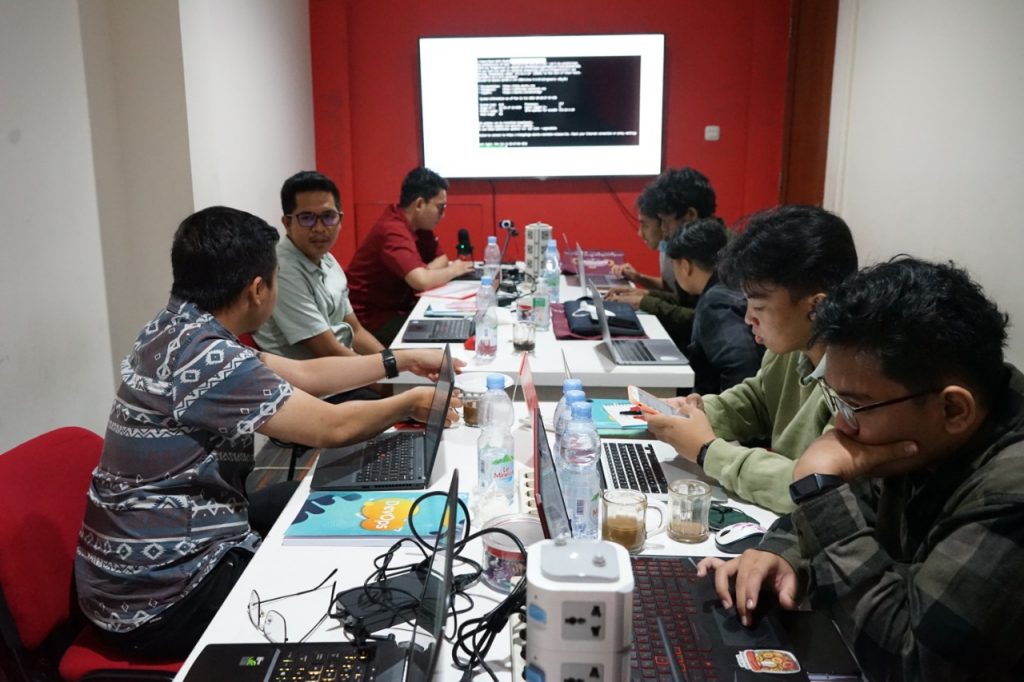 Trainer
Curriculum
Bab 1: Introduction of DevOps
Understand DevOps, its roles and responsibilities
DevOps problems and solutions
Identify cultural impediments and overcome it
Understand the infrastructure layouts and its challenges
Network Concepts at Enterprise Scale
Bab 2: Version Control System: Git & Github
Introduction of Version Control System.
Introduction Source Code Management
How Git Works
Working locally with Git
Working remotely with Git
Branching & Merging
Resolve Merging Conflict
Bab 3: Containerization (Docker)
Containerization Introduction.
Docker Introduction
Docker Installation
Docker Command
Docker Images & Container
Create own Image with Dockerfile
Docker Registry
Docker Volume
Docker Networking
Docker Compose
Docker Swarm
Bab 4: Ansible Automation
Ansible Introduction.
Deploy Ansible.
Working with Inventory.
Add task by Ad-Hoc Command.
Implementing Playbooks.
Playbook Variable & Facts.
Ansible Galaxy.
Ansible Vault Encryption.
Ansible in DevOps Environtment.
Bab 5: E. CI/CD with Jenkins
Introduction CI/CD.
Installation and Setup Jenkins.
Create Folder in Jenkins.
Create project in jenkins.
Create project integration with Git.
Create project integration with Docker & Ansible.
Create project automatic run build.
Jenkins in DevOps Environtment
Bab 6: Monitoring with Zabbix
Install and Setup Zabbix.
Add Template to monitoring hosts.
Adding Host to Monitoring.
---
Durasi Training
4 Hari (Jam Belajar Mulai Pukul 09.00 s.d 17.00 WIB Perharinya)
---
Biaya Investasi : Rp 3.000.000,-
---
Note: Jika membutuhkan surat penawaran dan faktur pajak, silahkan hubungi kami.