Mengapa Harus Training Windows Server 2019 di IDN ?
Free konsultasi after training (kalo perlu tindak lanjut, ke project)
Update informasi bursa kerja untuk peserta training
Biaya training murah dibanding tempat-tampat yang lain
Bebas nge-lab di IDN di luar jam training khusus peserta training
Disediakan Penginapan gratis untuk peserta yang berasal dari luar kota
Trainer berpengalaman mengajar di dalam dan luar negeri
---
Pengenalan Training
Microsoft Windows Server merupakan salah satu system operasi terkenal di dunia. Banyak sekali perusahaan yang menggunakan Windows Server sebagai system operasi utama, engineer dan sysadmin yang dibutuhkan oleh perusahaan pun terus meningkat permintaannya.
Apabila anda memilih IDN sebagai training partner anda dalam menguasai windows server merupakan pilihan yang tepat, selama 4 hari anda akan dibimbing oleh instruktur professional pada bidangnya dengan adanya penjelasan dan pemahaman materi serta contoh implementasi di lapangan akan menjadikan anda memiliki skill system administrator windows server apabila telah selesai mengikuti training ini.
---
Benefits
Peserta diharapkan setelah training mampu untuk melakukan instalasi dan konfigurasi server dengan system operasi Windows Server
Peserta dapat memahami langkah-langkah troubleshooting pada server dengan system operasi Windows Server.
Peserta juga akan bergabung di grup WhatsApp Training Windows Server. Sehingga peserta dapat bertanya jika ada kesulitan dalam memahami materi ataupun ada masalah dengan troubleshooting yang berkaitan dengan Windows Server.
Selama training berlangsung, peserta akan dipinjami laptop dengan spesifikasi mumpuni selama training berlangsung.
Peserta akan mendapat modul training dalam bahasa indonesia dan juga beberapa software pendukung.
---
Trainer
---
Testimoni
"Banyak utilities dari windows server byk jadi tahu, sebelumnya tidak sebanyak ini, trainer fast response saat menjawab", Zulkifli Akbar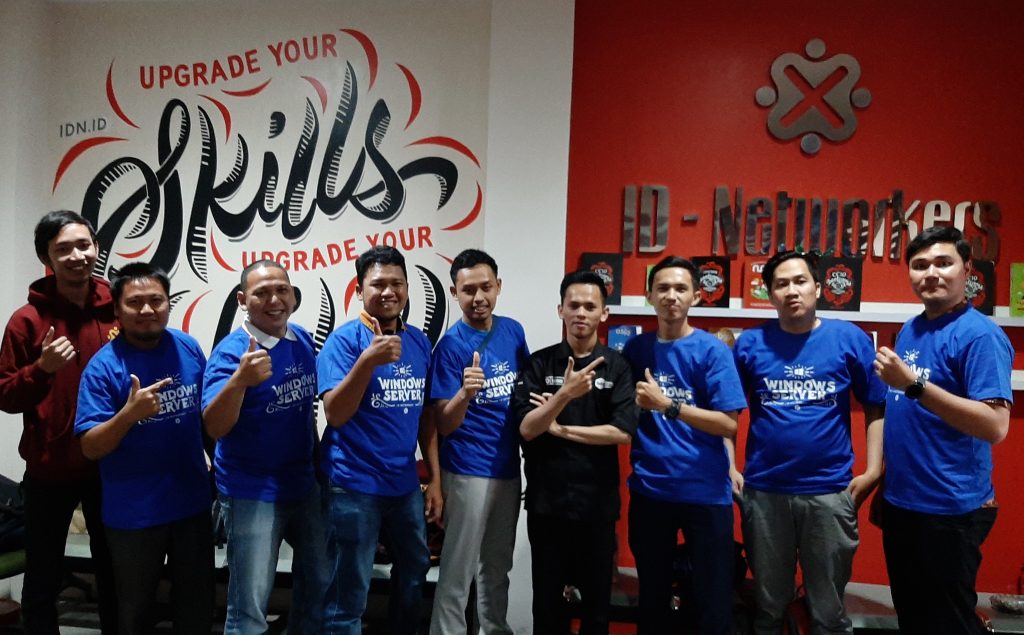 ---
CURRICULUM
Outline
Introduction Windows Server
Installation Windows Server 2019
User Authentication
Management NIC Teaming
Management Local Storage
Configure Storage Pool
Management Virtual Disk dan RAID
Create Folder Share
Remote Management Server
Introduction Hyper-v
Installation Hyper-v
Create VM on Hyper-v
Installation DHCP Server
Installation Active Directory and DNS Server
Configure Active Directory Domain Service and DNS Server
Create User Object
Create Organizational Unit (OU)
Create Group Policy Object (GPO)
Installation Windows Deployment Service
Configure Windows Deployment Service
Simulation WDS
Instalaltion Windows Server Update Service
Configure Windows Server Update Service
Monitoring Windows Server With Event Viewer
Monitoring Windows Server With Task Manager
Monitoring Windows Server With Releability Monitor
Installation DFS NameSpace and DFS Replication
Management DFS NameSpace and DFS Replication
Installation File Resource Server Manager
Management Quota and File Screen
Management Enkripsi With EFS
Management Enkripsi With Bitlocker
Introduction VPN
Installation VPN Server
Configure VPN Server
Installation Active Directory Certificate Service (ADCS)
Configure ADCS
Introduction Hyper-V Manager
Installation ISCSI
Installation Failover Cluster
Migration Storage VM
Configure HA (Haigh availablity) VM
Simulation HA on Hyper-v
---
Durasi Training
4 Hari (Jam Belajar Mulai Pukul 09.00 s.d 17.00 WIB Perharinya)
---
Biaya Investasi : Rp 2.800.000,-
---
Note: Jika membutuhkan surat penawaran dan faktur pajak, silahkan hubungi kami.