Mengapa Harus Training IoT Industrial Automation di IDN ?
Materi All in one (PLC-HMI-IOT)
Based on real industry project
Hands-On Perangkat
Konsultasi Teknis Gratis
Pengalaman trainer sudah kelas expert dengan jam terbang tinggi di berbagai projek.
Peserta akan mendapat modul training dalam Bahasa Indonesia dan juga beberapa software pendukung.
Free join mailing list, Gorup Telegram dan WhatsApp IDN, bisa cari info kerja dan diskusi di grup.
---
Pengenalan Training
Internet of things merupakan sebuah konsep di mana suatu benda atau objek ditanamkan teknologi-teknologi seperti sensor dan software dengan tujuan untuk berkomunikasi, mengendalikan, menghubungkan, dan bertukar data melalui perangkat lain selama masih terhubung ke internet.
IoT memiliki hubungan yang erat dengan istilah machine-to-machine atau M2M. Seluruh alat yang memiliki kemampuan komunikasi M2M ini sering disebut dengan perangkat cerdas atau smart devices. Perangkat cerdas ini diharapkan dapat membantu kerja manusia dalam menyelesaikan berbagai urusan atau tugas yang ada.
IoT dalam otomasi industri memungkinkan pemantauan dan pengendalian mesin dan proses dari jarak jauh. Artinya, operator dapat mengawasi operasional dari mana saja di dunia, menggunakan perangkat yang terhubung ke internet. Hal ini meningkatkan fleksibilitas dan memungkinkan respons cepat terhadap masalah apa pun.
---
Dokumentasi Training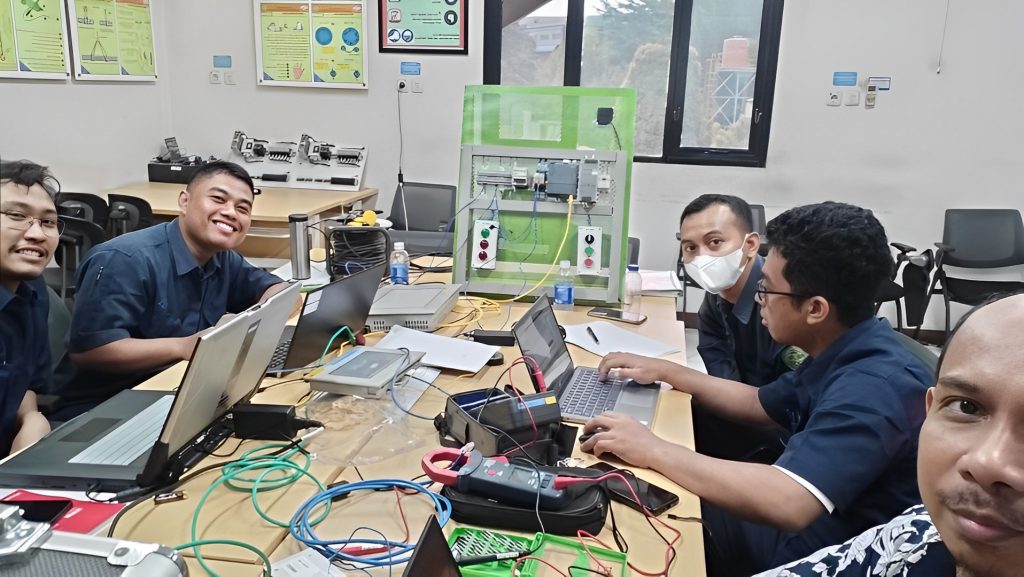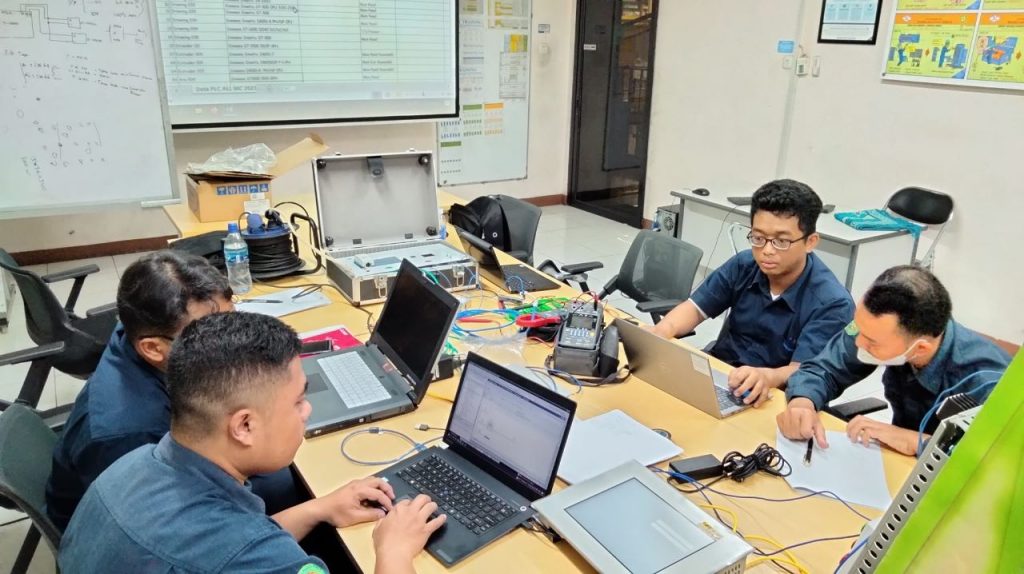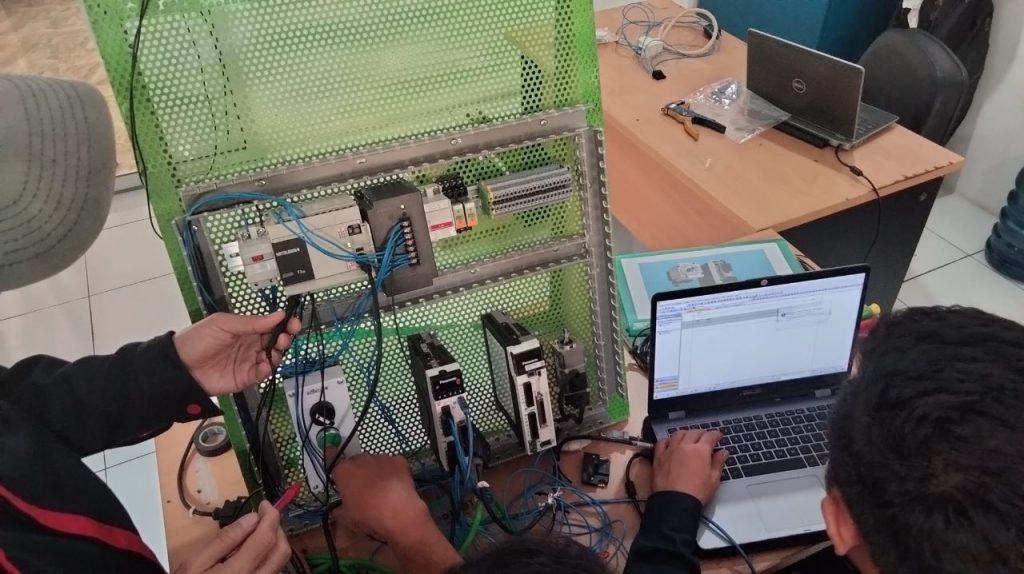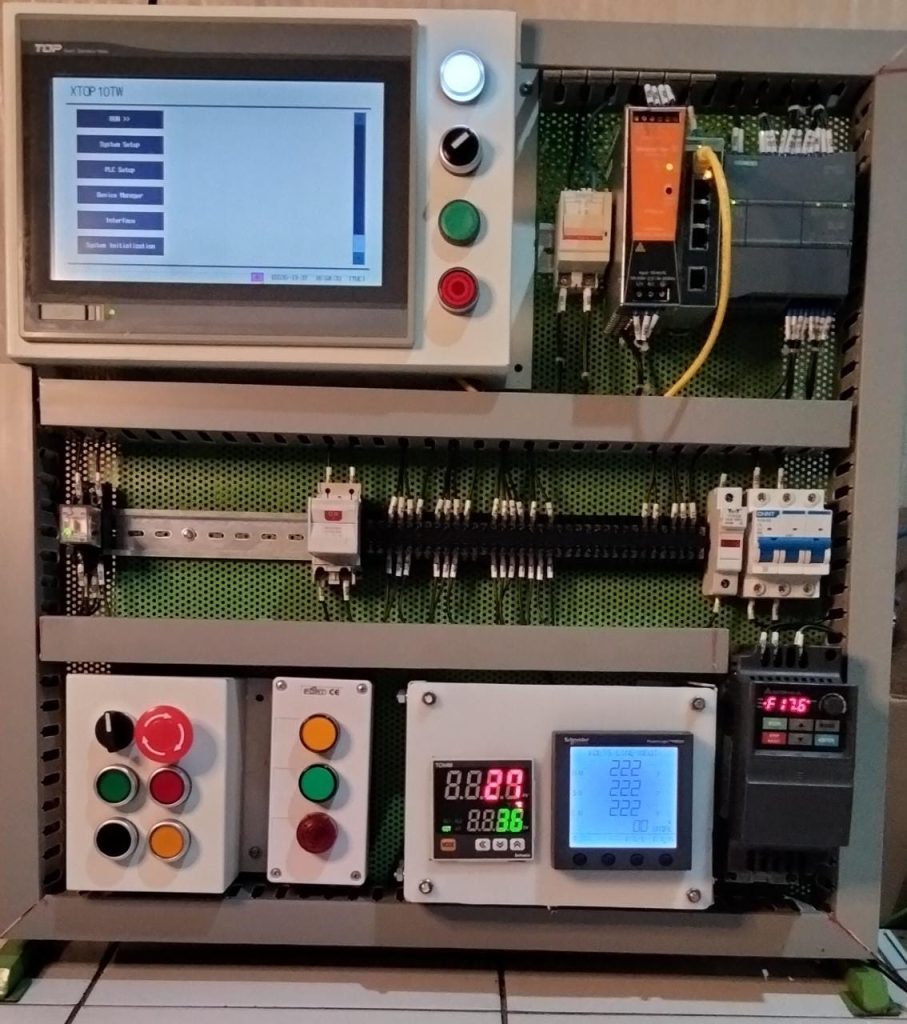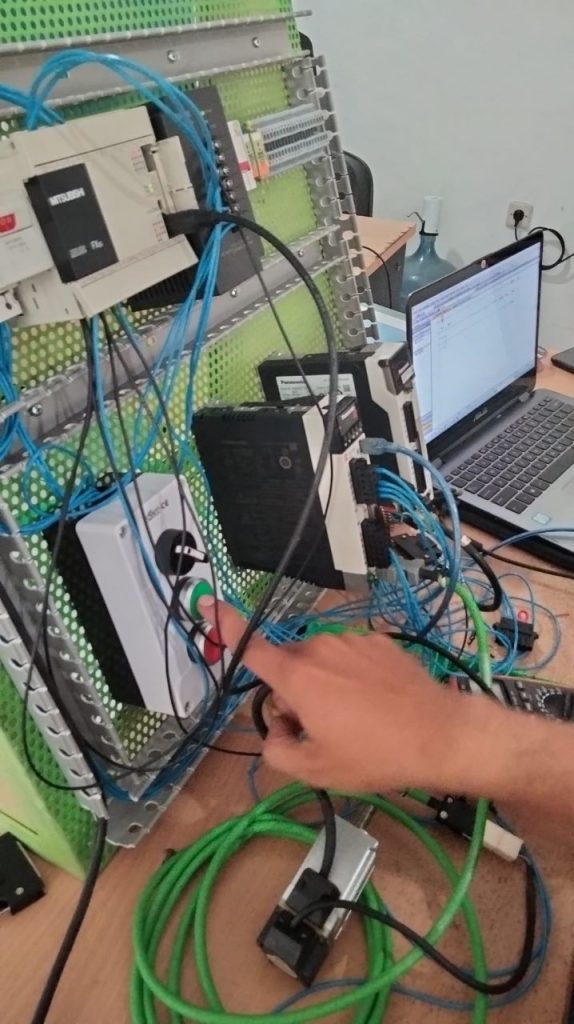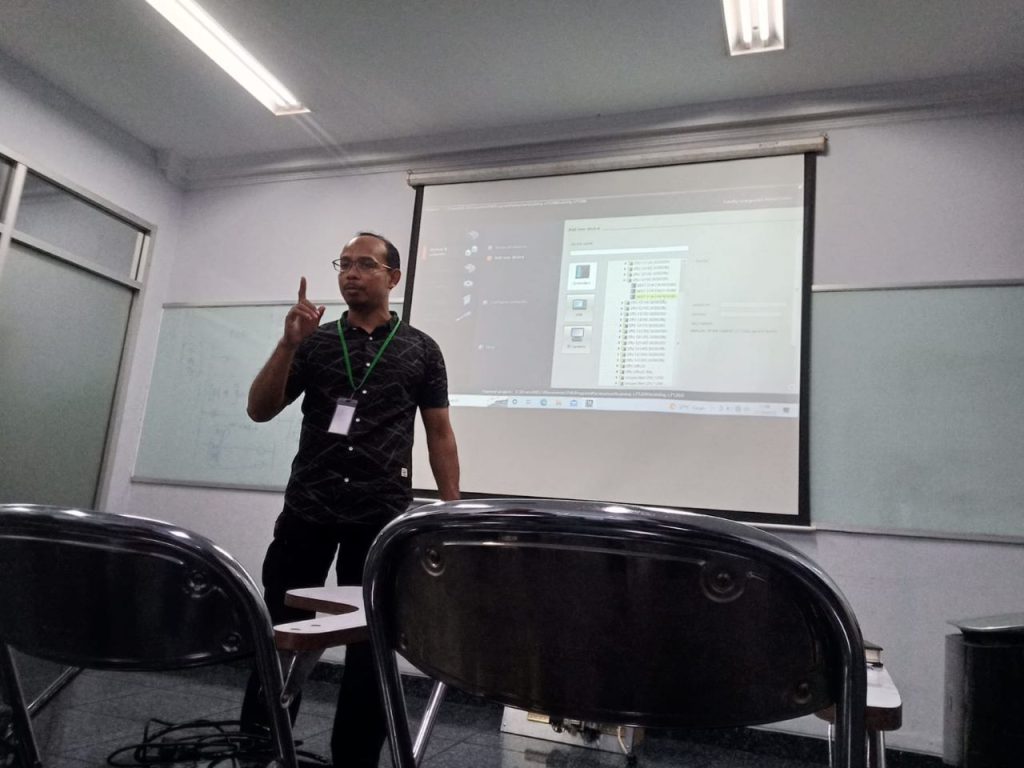 Materi Training All In One
[PLC – HMI – SCADA – MODBUS – IOT – INDUSTRIAL PROJECT]
Drawing & wiring
Electrical Drawing
a. Mengenal Symbol Standard Electrical Drawing
b. Membaca Electrical Drawing

Wiring
a. Mendesign Wiring diagram
b. Mengaplikasikan Design wiring diagram
c. Wiring dengan symbol, Labeling & Numbering

Pemograman PLC Dasar
Pengenalan PLC (Brand, Input, Output, CPU, Interface)
Logika Pemrograman PLC Dasar (Flow Chart, Decision, Alternate Program, & Option)
Mode dalam PLC
a. Write / Program Mode
b. Read Only Mode
c. Edit Online Mode
d. Online Monitoring Mode
Download & Upload Program

Pemrograman PLC lanjutan
a. Compare Instruction
b. Arithmathic Instruction
c. Move Instruction
d. Converstion Word Data
e. Program Analog Input & Output
f. Scalling data Input dan Output (Analog)
g. Communication port (RS232, RS485, Ethernet, CC-Link, Profibus dsb)

Komunikasi PLC dan Instrument
a. Mengenal Berbagai Interface PLC dan HMI
b. Pemrograman Dasar HMI (Bit Lamp, Bit Switch, Bit Word, dsb)
c. Menampilkan Data Bit & Data Word dalam HMII
d. Membuat Program HMII
e. Mengkomunikasikan HMI dan PLCI

Internet of Things
a. Pengenalan IoT
b. Elemen Utama Pendukung IoT
c. Implementasi IoT
d. Pengenalan Mode Data Communication serial
e. Konfigurasi dan Converter ModBus RTU ke ModBus TCP atau Sebaliknya
f. Pengorganisasian data ModBus
g. Frame Data ModBus
h. Konfigurasi Module Modbus RTU
i. Hardware Pendukung IoT Gateway
j. Cloud Platform Connection Configuration
k. Scada Web, atau Display IoT

IoT Project
a. Monitoring & Control Lampu & Penerangan Jalan Umum
b. Monitoring & Control AC
c. Monitoring & Control Fan or Blower
d. Monitoring Temperature & Humidity
e. Monitoring Power Meter (Voltage, Currnet, kWH, Harmonic etc)
f. Monitoring & Control Induction Motor (for Conveyor, Agitator, & Pump)
g. Monitoring & Control Pneumatic System ( Valve & Air Pressure)
h. Monitoring & Control Hydraulic System ( Valve & Hydro Pressure)
i. Monitoring & Control System Start Delta Motor
j. Monitoring Run & Stop Machine
k. Monitoring Effectivity Machine (Compare of Production Plan & Actual)
l. Monitoring Data Logging pada sebuah Mesin Produksi
---
Perangkat Lab Hands-On
"Explorasi Praktis dengan Perangkat Lab Terdepan"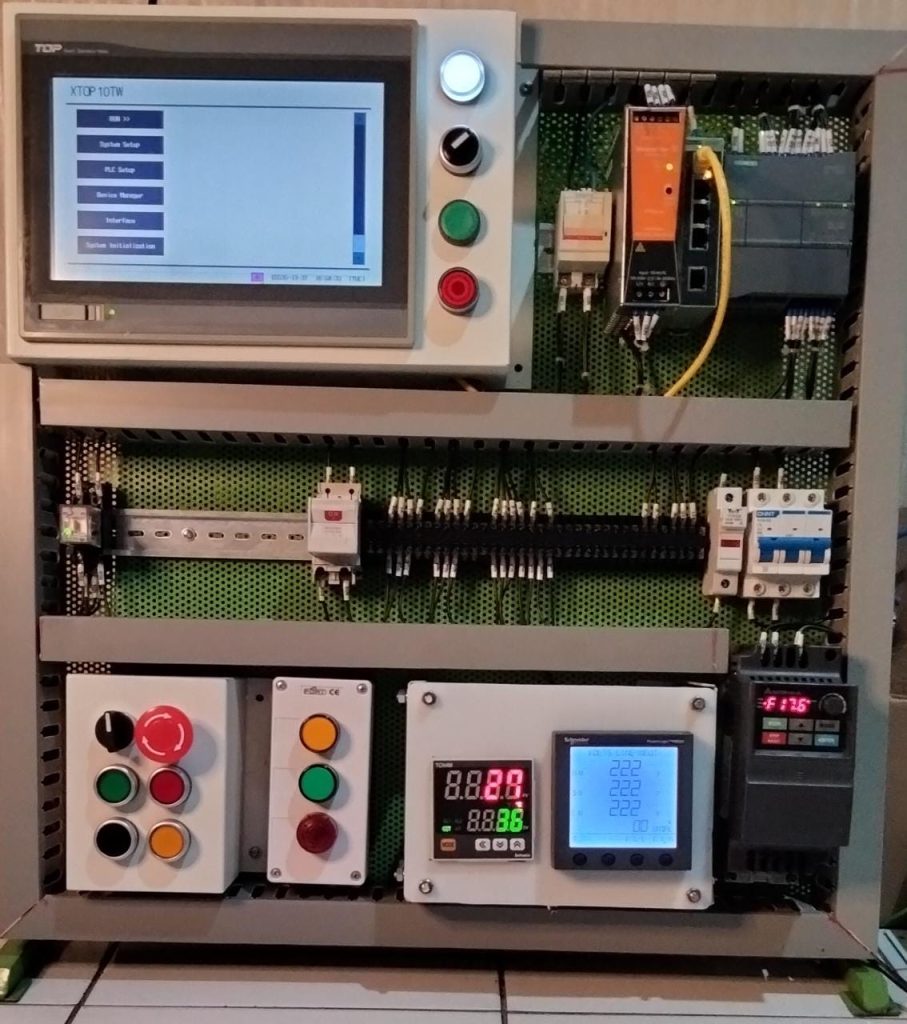 PLC A Series Haiwell
PLC CJ1M Omron
PLC FX3S Mitsubishi
Servo Motor Panasonic
Digital Power Meter Schneider
Relay MY2N Omron
Circuit Protector 2P 5A Fuji Electric
Circuit Protector 2P 3A Mitsubishi
MCB 3P 6A Chint
Power Supplay 24VDC 5A Weidmuller
HUB Switch 5 Port Contact Phoenix
PLC s7-1200 CPU 1212 Siemens
HMI 10″ TOP
Fuse MCB TnT
Temp. Control Autonics
Sensor Suhu & Kelembaban DH100
Inverter AC220V 0.75 kW Delta
EMG Stop
Selector SW
Push Button
Pilot Lamp
---
Durasi Training
4 Hari (Jam Belajar Mulai Pukul 09.00 s.d 17.00 WIB Perharinya)
---
Biaya Investasi : Rp 3.500.000,-
---
Gunakan kode diskon oktober untuk mendapatkan diskon 500ribu, berlaku jika daftar sebelum tanggal 6 Oktober 2023.
Note: Jika membutuhkan surat penawaran dan faktur pajak, silahkan hubungi kami.